Audio + Video broadcast experiments over the Internet

(to play the links below you will need to download RealPlayer 5.0 or later from www.real.com)

- ARS ELECTRONICA FESTIVAL 1998
Live broadcast (08-10.09.98) from Linz via high-speed ATM interconnection
and RealVideo transcoder (detailed program can be seen here)
IP multicast experiments (only in Hungarian)
We broadcast the lecture "Speed and Energy" of Siegfried Zielinski recorded at the Mucsarnok (Kunsthalle) Budapest.
We broadcasted the events of the Internet Galaxis 98 exhibition (02.26.98-03.04.98) in Budapest. The exhibition venue, the Museum of Applied Arts, could be seen when there was no lecture or presentation.
Our first live video broadcast was the BALLROOM exhibition recorded at the Ludwig Museum in Budapest. The special light+sound installation was shown between 09.12.97 - 19.12.97. The opening was recorded and can be seen here.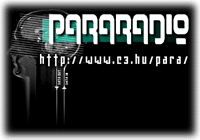 ParaRadio is C3's unique Internet radio station with live broadcast every Wednesday afternoon.

This page was created by atudos@c3.hu and last updated on: 14/01/01